miércoles, 4 de mayo de 2016
ERA SE UNA VEZ EN AMERICA CD 1
miércoles, 16 de diciembre de 2015
Scientists watch a planet being born for the first time in history
For the first time ever, scientists have been able to see planets as they are born. In photographs obtained by the Large Binocular Telescope and the Magellan Adaptive Optics System, astronomers watched as a ring of material formed into planets around a young star. This discovery could lead to the discovery of other forming exoplanets and give scientists answers to how planets are formed and then evolve into solar systems such as ours.
The telescope and optics system was able to photograph LkCa 15, a gas-giant exoplanet forming around a young star about 450 light years from Earth. The LkCa 15 system, according to
Space.com
, features a "disk of dust and gas" around a "sun-like" star that's just two million years young. The scientific team, led by Stephanie Sallum, a graduate student at the University of Arizona, used the Large Binocular Telescope, an observatory in southeastern Arizona that has two 27-foot-wide mirrors.
The scientists confirmed that one giant protoplanet (not quite a planet, yet) existed and called it LkCa 15b. They were able to see it in hydrogen-alpha photons which are a type of light emitted when "superheated material accretes onto a newly forming world." Essentially, the new planets are surrounded by "feeder" material.
Another newborn planet, LkCa 15c is also inside the gap between star and the dust ring and it's possible that another LkCa 15d is also there. "We're seeing sources in the clearing," Sallum said. "This is the first time that we've been able to connect a forming planet to a gap in a protoplanetary disk."
Google, NASA: Our Quantum Computer Is 100 Million Times Faster Than A Normal PC
But only for very specific optimisation problems.
"Two years ago Google and NASA went halfsies on a D-Wave quantum computer, mostly to find out whether there are actually any performance gains to be had when using quantum annealing instead of a conventional computer. Recently, Google and NASA received the latest D-Wave 2X quantum computer, which the company says has "over 1000 qubits."
At an event yesterday at the NASA Ames Research Center, where the D-Wave computer is kept, Google and NASA announced their latest findings—and for highly specialised workloads, quantum annealing does appear to offer a truly sensational performance boost. For an optimisation problem involving 945 binary variables, the D-Wave X2 is up to 100 million times faster (108) than the same problem running on a single-core classical (conventional) computer.
Google and NASA also compared the D-Wave X2's quantum annealing against Quantum Monte Carlo, an algorithm that emulates quantum tunnelling on a conventional computer. Again, a speed-up of up to 108 was seen in some cases."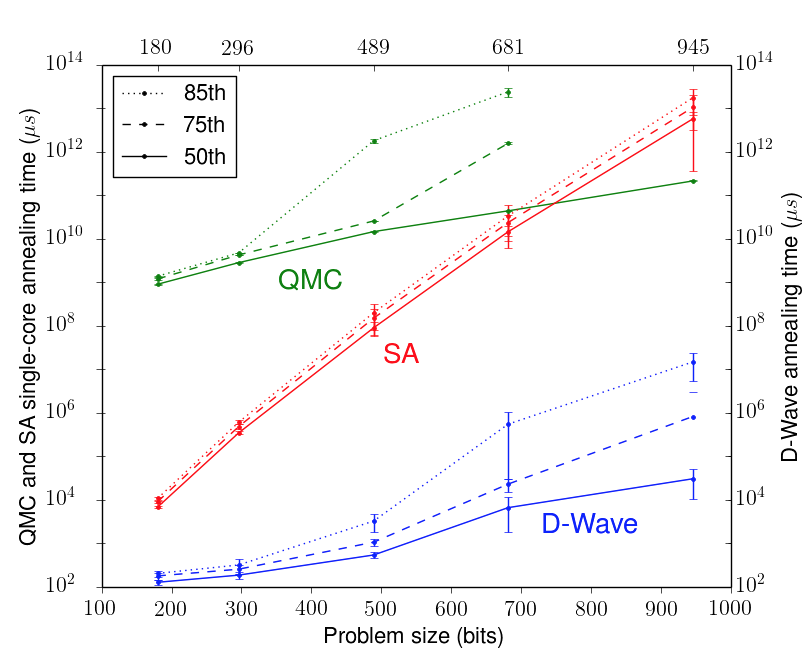 Hartmut Neven, the head of Google's Quantum Artificial Intelligence lab, said these results are "intriguing and very encouraging" but that there's still "more work ahead to turn quantum enhanced optimization into a practical technology."
As always, it's important to note that D-Wave's computers are not capable of universal computing: they are only useful for a small number of very specific tasks—and Google, NASA, and others are currently trying to work out what those tasks might be. D-Wave's claim of "over 1,000 qubits" is also unclear. In the past, several physical qubits were clustered to create a single computational qubit, and D-Wave doesn't make that distinction clear.